WATER IS A HUMAN RIGHT. Great news! California is the first and only state in the U.S.A. to adopt the Human Right to Water, but this is just the beginning. Join our coalition to learn how you can help all Californians gain access to clean, safe, affordable water. 
Join now >
MEET EJCW'S CENTRAL COAST OFFICE: California's Salinas Valley is one of the regions of the state most highly impacted by water contamination from nitrates and the drought. See how EJCW's Central Coast staffers are working with local communities to meet both immediate needs and plan for long-term, community-based solutions.
Learn more about our work >
EJCW works on the front lines of disadvantaged communities throughout California, helping  their concerns and needs reach our regional, state, national and global partners. We work in partnership with community leaders, non-profits and government agencies so that we can work together to provide safe, clean, affordable water to everyone in California.
Meet EJCW members >
Learn how EJCW works within a Community-to-Capitol framework, connecting the needs of our community members to our network of statewide partners and agencies.
Meet EJCW Staff >
Thirsty for Justice
California community leaders share their water justice stories. Learn more about water access, affordability, and safety. View the video now, or schedule a showing by contacting amanda@ejcw.org
View.
Water is an Environmental Justice Issue.
Water is a Human Right. 
Access to clean, safe, and affordable water is a fundamental human right essential for a healthy population, environment, and economy. Many communities, particularly those of low-income and communities of color are under-served. Unlike other groups, these communities lack access to safe, affordable water for drinking, subsistence, cultural, and/or recreational uses. Water justice will only be achieved when inclusive, community-based forms of water management are developed and we address the health and environmental burdens low-income communities and communities of color bear.
Currents – Water Justice Blog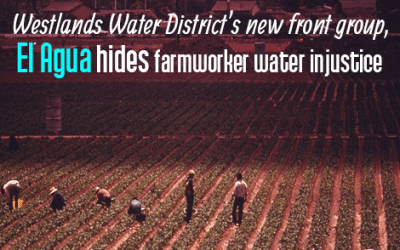 Amanda Ford and Janaki Jagannath: Westlands' new front group hides farmworker reality. The New York Times recently reported and The Bee reprinted that the Westlands Water District has five lobbying firms under contract in Sacramento and Washington, D.C., and a massive public relations budget to lobby for more taxpayer-subsidized water and to weaken laws that protect imperiled fish and wildlife. Westlands also has a new front group – one masquerading as a voice for Latino residents who champion more water for Westlands' agribusiness giants. The campaign is called El Agua Es Asunto de Todos (Water Is Everybody's Business). Westlands has already put $1.1 million into El Agua promotions and reportedly pays its $14,000-per-month operating expenses. Working through firms in New York and California, El Agua has saturated Spanish-language media in California with pleas for more water for these industrial irrigators, claiming it will lift farmworkers out of poverty. But the El Agua campaign is a distraction from the truly perverse inequities farmworker communities experience with respect to access to water. The stark reality is that the Westlands Water District is home to among not only the poorest, but also the thirstiest, people in the state. Residents of the small farmworker communities located just feet away from heavily irrigated fields are being used by Westlands for the El Agua campaign though they do not have access to safe, clean and affordable domestic water. Residents least able to do so must pay some of the highest (and least transparent) water rates in the nation right back into Westlands' pocket! These workers cannot use agricultural irrigation water for bathing, drinking or cooking.... read more
DONATE! Your $25 donation can Provide water to a family in need.